Support UPLIFT
Volunteer
Volunteering for UPLIFT is an extraordinarily rewarding experience. Volunteers work in teams of three to four lawyers to coach middle school mock trial teams. Volunteers meet with their teams once each week for approximately two hours for 10 to 12 weeks to help students prepare for their mock trials. Volunteers are provided with all case materials and structured plans to support their coaching efforts. Teams of three to four allow volunteers to meet professional commitments when they arise with the understanding that their co-coaches will help to keep their coaching commitments.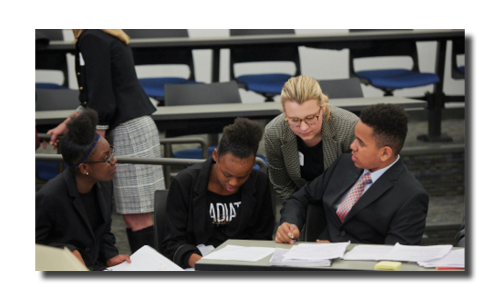 "I have been a Maslon UPLIFT volunteer instructor since the program's inception in 2017. It has been a truly remarkable experience for me. UPLIFT is right up there for accomplishing good things at any number of levels. It provides me with tremendous personal satisfaction knowing that we are helping the development of teenagers approaching adulthood with much improved self-confidence and a better understanding of how the legal system that has been in the news almost every day in this country actually operates."

– Cooper Ashley, Maslon Alumnus
Contribute
To make a tax-deductible contribution to UPLIFT, please use the form below.
Donate
UPLIFT students have access to the UPLIFT Borrowing Closet, which contains suits and courtroom attire in all shapes and sizes to fit all of our students. It is important for students to have the opportunity to wear their lawyer "uniform" for their day in court.
If you would like to donate new or gently used suits to the UPLIFT Borrowing Closet, please contact us at uplift@maslon.com for information on drop-off sites.
Thank you to Mulberrys Garment Care for donating their laundry services to the UPLIFT borrowing closet.

Learn More
If you are interested in learning more about ways to support UPLIFT, please contact us at uplift@maslon.com.