NEWS
Pro Bono Work by Maslon Attorneys Helps Bring Lake Street Book Project to Life
October 8, 2021
Maslon Partners Terri Krivosha and Susan Markey, with help from summer associate Jessica Karp, provided pro bono legal assistance in the creation of Lake Street Speaks, a new commemorative art book highlighting the street murals that emerged in Minneapolis in the wake of George Floyd's killing and protests.
Following Floyd's murder, photographer and former business owner Susan B. Shields set out to immortalize the temporary murals created along Lake Street—images that she felt expressed the community's pain, anger, and hope. She teamed up with Rashaunea Ambers-Winston, a 20-year-old college student, to include her poetry, which shares the pain and sadness she has experienced growing up African American in north Minneapolis. All of the proceeds will be shared among four nonprofits that serve communities of color.
For more information or to purchase the book, go to Lake Street Speaks.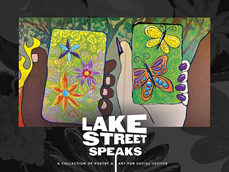 Terri is passionate about helping businesses grow, succeed, and scale. As a strategic business attorney, she helps a vibrant network of entrepreneurial and dynamic businesses see the "forest through the trees." Terri works directly with the business people who lead organizations, providing general counsel advice that is not only prompt and pragmatic, but also customized to fit the stage of the client's business. She is exceptionally skilled at negotiating and drafting multiple kinds of contracts, strategic partnerships, and joint ventures; developing and implementing exit strategies; advising on selling or buying companies and raising capital to recapitalize businesses; and coaching clients on complex governance matters. Terri is also a qualified Rule 114 mediator, bringing her transactional experience, creativity, and high energy to the mediation table.
Susan represents clients in general corporate, taxation, and nonprofit matters. She draws from a diverse background in government, accounting, and law to serve as a holistic business advisor, and strongly believes that tax and corporate advice should be both easy to understand and practical. Tax issues with which she assists client include tax controversies, audits, appeals, planning, and structuring, as well as researching tax law, drafting legal appeals, and memoranda. In addition to her tax practice, Susan counsels clients on mergers and acquisitions, business formation, joint ventures, charitable entities, and general corporate matters, while leveraging her tax background to help guide them toward profitable solutions.